Accomodation
Pre-booked rooms
Several rooms will be booked at the FIAP Jean Monnet, 10 minutes walk (~1km) to Paris Observatory for Friday, Saturday and Sunday evening. More information will be provided in few weeks.
Other Hotels close to Paris Observatory
On the following map, you will find some suggestions of nearby hotels. The one star hotel are indicated by a yellow star, the two stars hotel are indicated by a green star and the three stars hotel are indicated by a red star.
Hotels close to Gare Montparnasse
The Paris Observatory is indicated by a green race flag and the Montparnasse station is indicated by a blue train.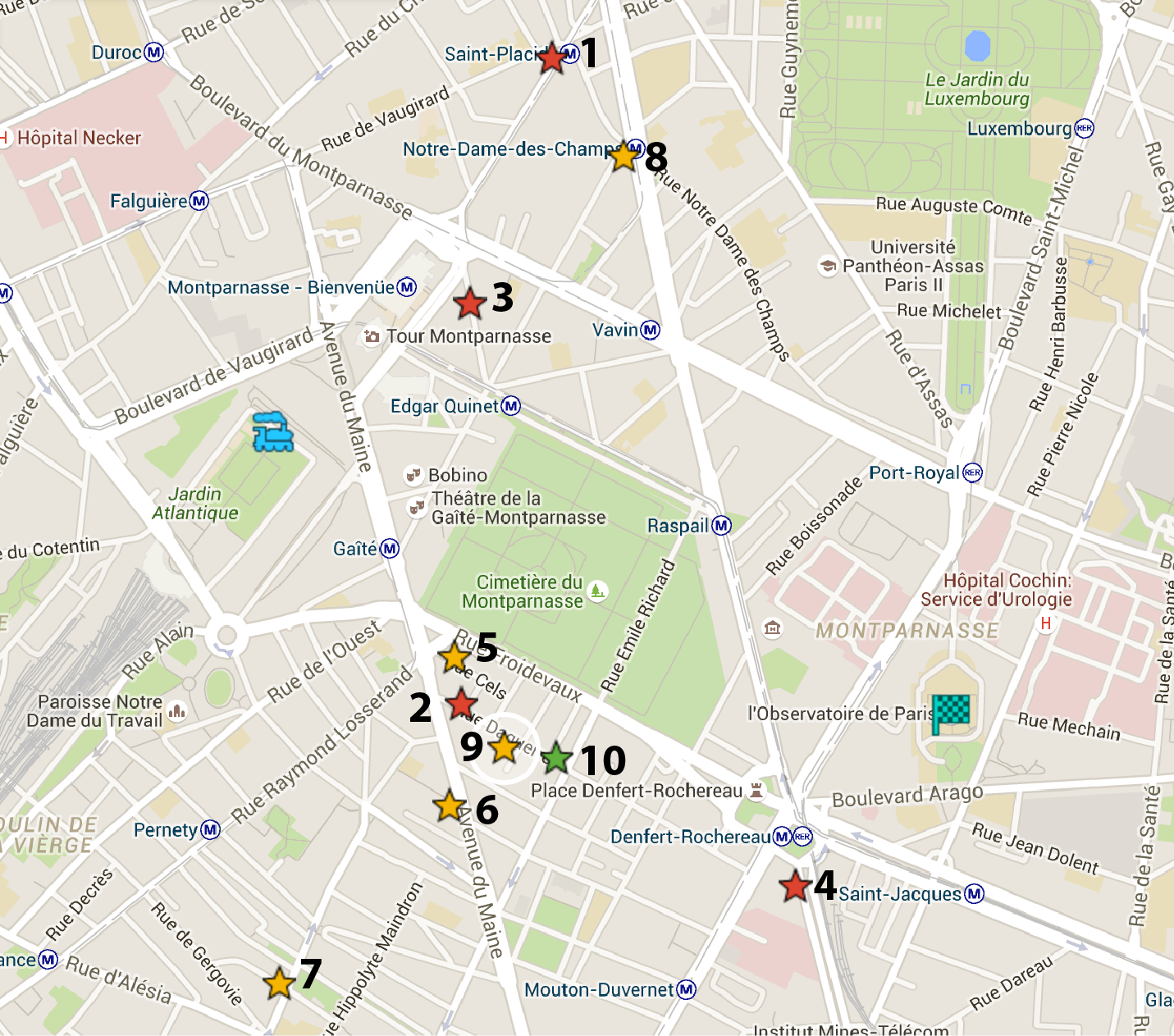 Hotels (★ ★ ★)

Hotels (★ ★)

Hotels (★)

1 - BEST WESTERN ARAMIS
Address: 124 Rue de Rennes, 75006 Paris
Phone: +33 (0)1 45 48 03 75
5 - HÔTEL AGENOR
Address: 22 Rue Cels, 75014 Paris
Phone: +33 (0) 1 43 22 47 25
10 - HÔTEL TELEMAQUE
Address: 64 Rue Daguerre, 75014 Paris
Phone: +33 (0)1 43 22 60 08
2 - HÔTEL DAGUERRE
Address: 94 Rue Daguerre, 75014 Paris
Phone: +33 (0)1 43 22 43 54
6 - CAMPANILE MAINE MONTPARNASSE
Address: 146 Avenue du Maine, 75014 Paris
Phone: +33 (0)1 53 74 60 00
3 - HÔTEL MICHEL MONTPARNASSE
Address: 8 Rue d'Odessa, 75014 Paris
Phone: +33 (0)1 43 20 61 22
7 - HÔTEL MOULIN VERT
Address: 74 Rue du Moulin Vert, 75014 Paris
Phone: +33 (0)1 45 43 65 38
4 - HÔTEL DU MIDI
Address: 4 Avenue René Coty, 75014 Paris
Phone: +33 (0)1 43 27 23 25
8 - HÔTEL STANISLAS
Address: 5 Rue du Montparnasse, 75006 Paris
Phone: +33 (0)1 45 48 37 05
9 - TIPI HOTEL
Address: 75 Rue Daguerre, 75014 Paris
Phone: +33 (0)1 43 20 02 37
Hotels close to RER station Saint-Michel - Notre-Dame